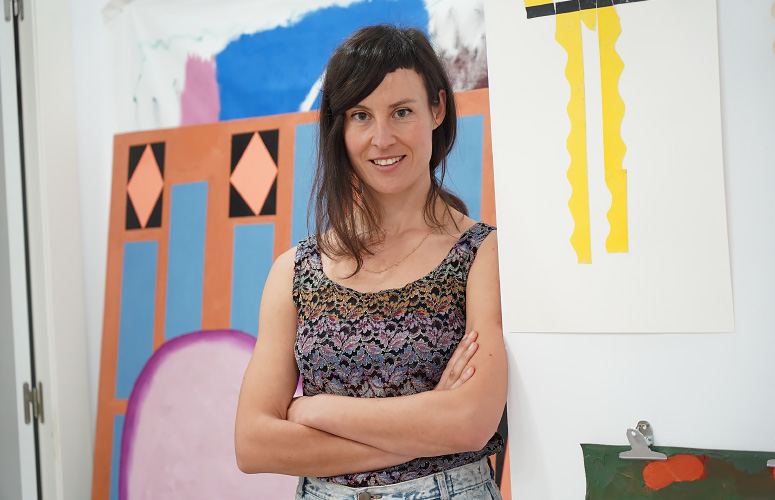 Damaris
Pan
Damaris Pan (Mallabia, Basque Country, 1983) lives and works in Bilbao. She combines creation with teaching work as part of the Painting Department of the Faculty of Fine Arts of the University of the Basque Country.
Damaris Pan's paintings reveal a peculiar language of shapes, densities and colour palettes whose outcome is not subject to specific themes, but which clearly goes for the autonomy of the pictorial work. Along with a clear concern for materiality and corporality, the Basque artist works with persistence on the possibilities of constructiveness, so she approaches each work as a synthesis of the artistic practice. She claims art as a place for knowledge from experience, from where she questions the limits of the pictorial and life.
Despite putting her heart and soul into it, when Damaris Pan talks about painting, she avoids any type of affectation and romantisation, considering it as a means that does not guarantee anything.
She faces each work as a new experience, as a test she has to begin and solve in each case. She never knows what the end of each painting will be until something happens that surprises her, a manifestation that is different in each case and rare and new enough, which makes her question over and over her own parameters about taste and the lack of taste. Thus, the matter of taste is widely present in her work, where the ridiculous can unexpectedly turn into the most meaningful thing or the playful to happen from the purely boring.
Among her most recent exhibitions it is worth mentioning the solo shows 'Un martillo en la cabeza' at Ana Mas Projects (Barcelona, 2022), 'Veri Pery' at Halfhouse (Barcelona, ​​2022), 'Cuernos a la Vista' at BilbaoArte (2020) and 'Qué Morena estás' at Sala Rekalde (Bilbao, 2018), the duo 'Sugaar' with Fiona Mackay at Cibrián gallery (Donostia, 2021), the group show 'Turno de réplica' at the Patio Herreriano Museum curated by Javier Hontoria (Valladolid, 2021) and 'Bi Dos Two' at Azkuna Zentroa (Bilbao, 2018).
She has participated in various residencies such as Sichuan Fine Arts Institute in Chongqing, China (2019), Art OMI in New York (2018) and Kunsthochschule Weissensee Berlin (2005).
She also has recently been awarded the Gure Artea 2021 Prize, in recognition of artistic activity. In addition, in 2021 edition she has received one of the two annual Eremuak's Artistic Practice Grants.
Her work is part of national collections such as Colección Artium Museoa, La Caixa Foundation, Juntas Generales de Bizkaia, Colección Fundación BilbaoArte and Colección Modus vivendi; and international collections such us the Francis J. Greenburger, Time Equities, Inc., or The Art OMI Collection, both in the USA.