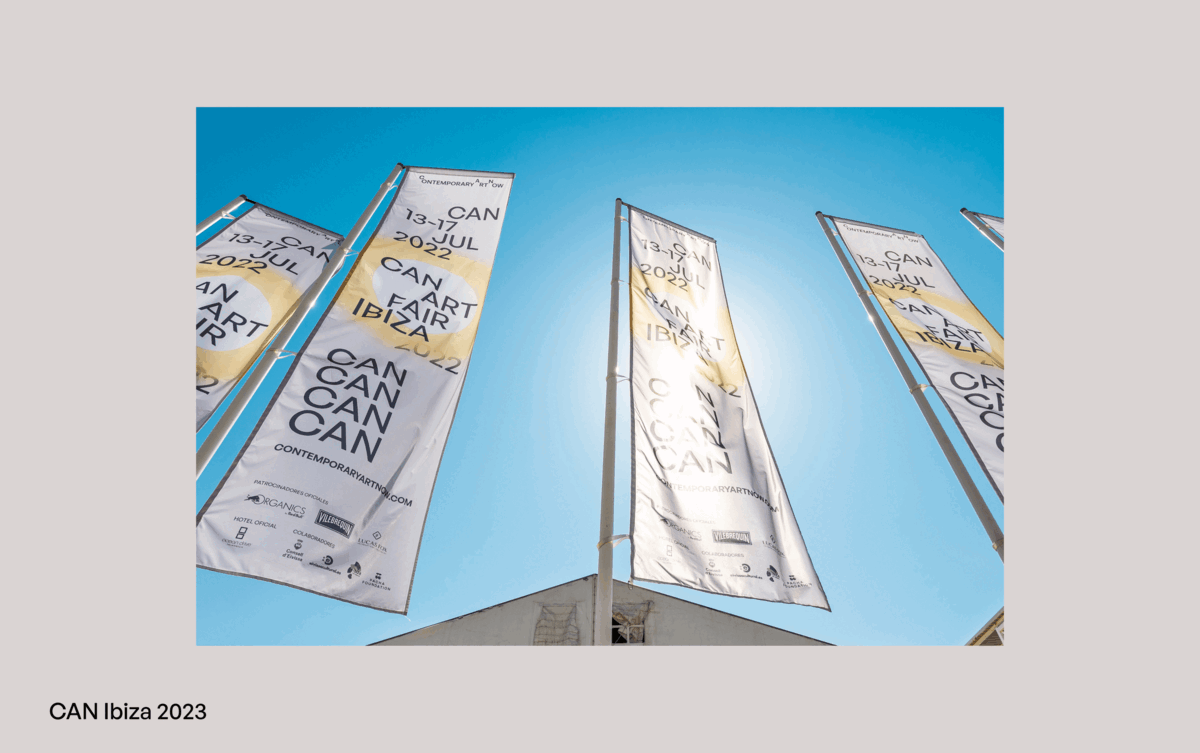 The first edition of CAN Ibiza 2022, celebrated from July 13th-17th, featured 36 galleries from 13 different countries including Japan, South Korea, Hong Kong, United States, Lebanon, Greece, Germany, Netherlands, Italy, France, United Kingdom, Belgium and Spain. Throughout five days we welcomed 5,000 visitors at FECOEV headquarters, highlighting a numerous presence of international collectors who visited Ibiza from all over the globe, specially Asia, North and South America and Europe.
In our effort to make the fair a meaningful experience where artists, gallerists, curators, and art collectors could connect, we as well arranged after-fair events that cultivated the Mediterranean lifestyle that makes Ibiza so special. The fair was supported by brands such as Gucci, who presented their digital project Gucci Vault and with whom we celebrated a memorable dinner at the Terra Masia Farm, merging art, fashion, and gastronomy. Glenfiddich & Barceló Spain, Cervezas Alhambra and Bardo Wines welcomed all the visitors of the fair with exquisitely made cocktails, wine and beer to ensure a unique experience to all the art lovers before heading to our afterparty at the iconic Pacha Ibiza Club. Dinners with breathtaking views were hosted at El Silencio Ibiza supported by Blancpain and Rabat or dancing the night away with Organics by Red Bull at Akasha Club.
CAN Ibiza did not disappoint: since the fair is only open during the afternoon, our Collector Programme ensured extensive cultural activities to shake creativity, to discover artists, galleries and art world figures at the forefront of Contemporary Art. These activities were witness of the rich and artistic scene of the island, like private studio visits to local artisans, guided tours to the Contemporary Art Museum in the Old Town, typical paella at Ses12naus Foundation in a Ibizan Finca, among other private tours throughout the most essential landmarks of Ibiza as Casa Broner, Espacio Micus and the Puget Museum.

With the sponsorship of Lucas Fox, Vilebrequin, Gucci, Glenfiddich & Barceló Spain and Organics by Redbull, and the support of the Consell d'Eivissa, CAN Ibiza became what we intended it to be, a meeting point, a place to heartily enjoy Contemporary Art in all its forms while savoring the Mediterranean lifestyle in one of the most beautiful islands in the world.