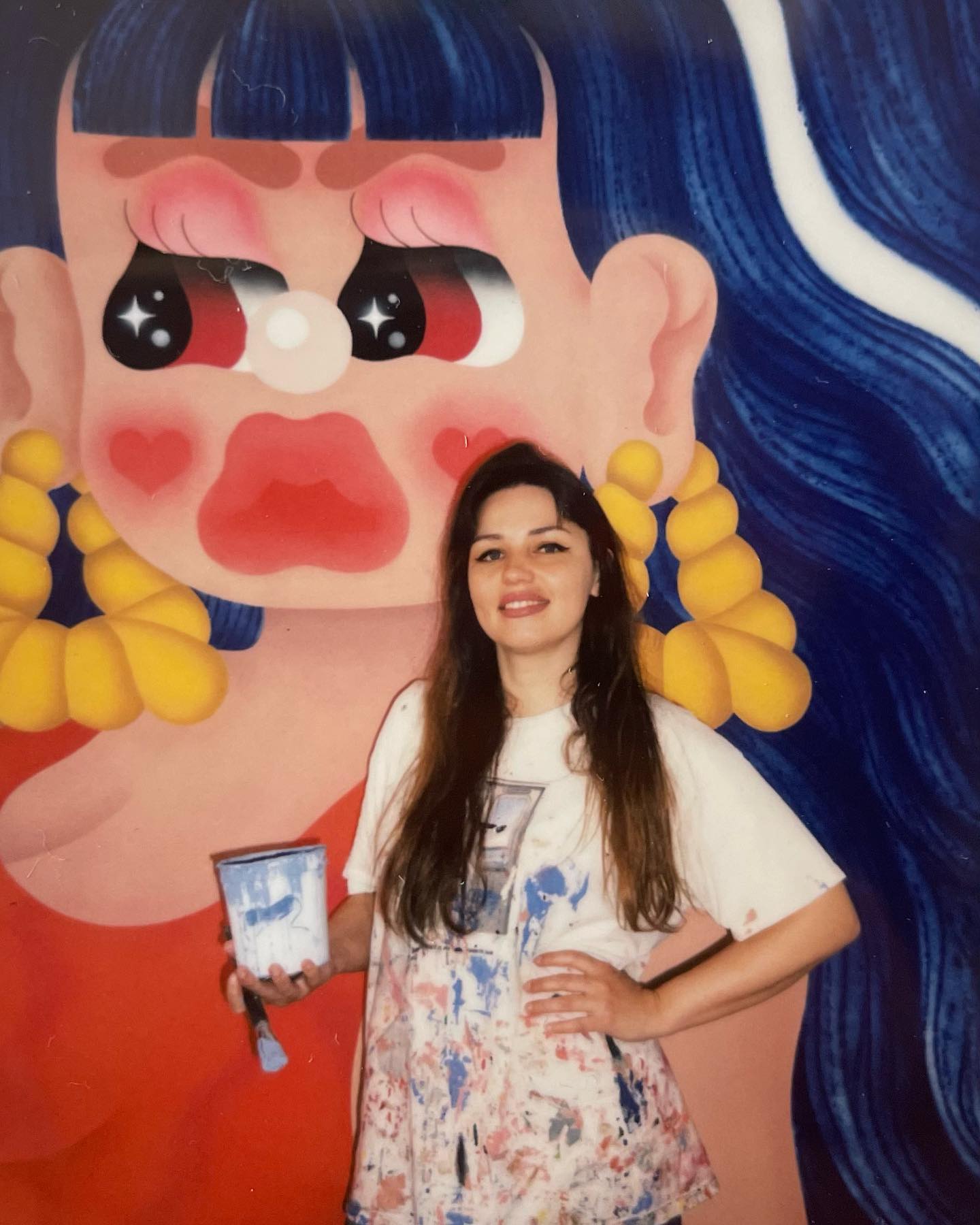 Fátima
de Juan
Fátima de Juan (Palma de Mallorca, 1984) is an artist based in Mallorca. Her first contact with the world of painting was through graffiti as a teenager under the alias "Xena". Years later she studied Illustration at the School of Arts and Crafts in Palma and Graphic Design in Madrid.
The woman is a constant in all her work; a strong woman, with large arms, exuberant features and claws, a reflection of an attitude that exudes femininity, sweetness and brute strength. Nature, the exotic, the primitive, the naive, the erotic, the tropical, fantasy and magic coexist in her personal universe through vivid colours and velvety textures that give her an almost real and naïve dimension at the same time. Ancestral elements such as fruits, pitchers, stones, swords… coexist with more "aesthetic", street and futuristic elements that make up the artist's dreamlike imaginary, full of contrasts and sweetly aggressive self-portraits.
Her first solo exhibition "Pretty Thug" has taken place at L21, Palma de Mallorca (2022). This year she will have solo shows at L21 Barcelona and WOAW, Hong Kong. Group exhibitions include "Stronger Than Language", Galerie Romero Paprocki, Paris (2022); "Food Obsession", Urvanity Projects and Gärna Art Gallery, Madrid (2022); "Portraits and monochromes", ARTUAL, Lebanon (2022); "PED TALKS", 42 Art Space, Hong Kong (2022); "Exodus", K11 Musea and Gallery Ascend, Hong Kong (2022); "Eating Sugar? No, papa!", L21, Palma de Mallorca (2021); "Oh baby!", Breach, Miami (2021). In 2023 Fátima will participate in group shows at L21, Palma de Mallorca; Allouche Gallery, Los Angeles; JPS Gallery, Hong Kong; etc.