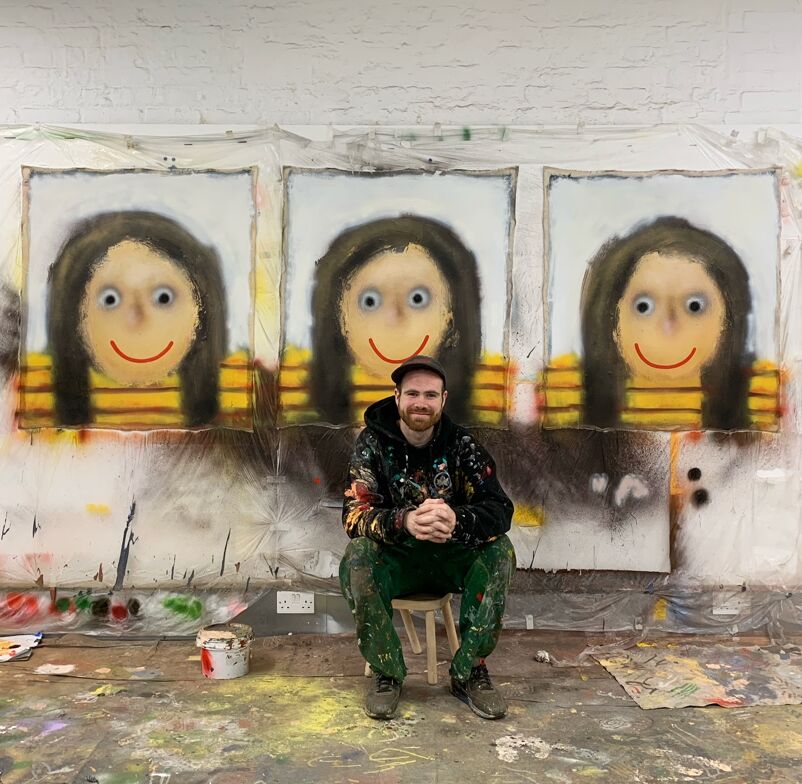 Hunter
Potter
Hunter Potter was born in 1990 in Syracuse, NY, and studied Fine Art at the University of Vermont where he graduated in 2013. He moved to New York City in 2015 and spent time sign painting, studio assisting, and art handling while finding his way to becoming a full-time artist. Now focused solely on his own practice, Potter maintains a studio in Brooklyn, New York. Hunter Potter uses a bold color palette and whimsical, geometric figures inspired by American folklore to create poppy paintings that celebrate the minutiae of daily life on a monumental scale.
Potter's figures often feature society's underdogs; criminals, fighters, and runaways he associates his work with are similar to characters in novels by John Steinbeck, Ernest Hemingway, and Larry McMurtry, whose writing influences Potter's work. Although he continues to create more intimate work, the artist's enthusiasm for large scale works began when he was apprenticed to paint billboards in New York. Potter was the recipient of the Roger Smith Artist Fellowship at the Vermont Studio Center in 2018 and was awarded residencies in London at the Plop Residency and The Fores Project.
His work has been exhibited in several solo and group exhibitions such as "A Little North" (L21 Palma, 2023); "Honey, I'm Home", L21 (Barcelona, 2022); "Godspeed", Primary Projects (Miami, 2022); CAN Ibiza 22 with L21 Gallery (Ibiza, 2022); "Art in Mayfair", Roman Road Gallery (London, 2022); "Looking Through the Window Wearing Only Socks", L21 Gallery (Mallorca, 2021); "My Sweet Doppelgänger", Richard Heller Gallery (Los Angeles, 2021); "The Artist Is Online", König Galerie (Berlin, 2021) or "Don'tGiveADamns", Marian Cramer Projects (Amsterdam, 2020).