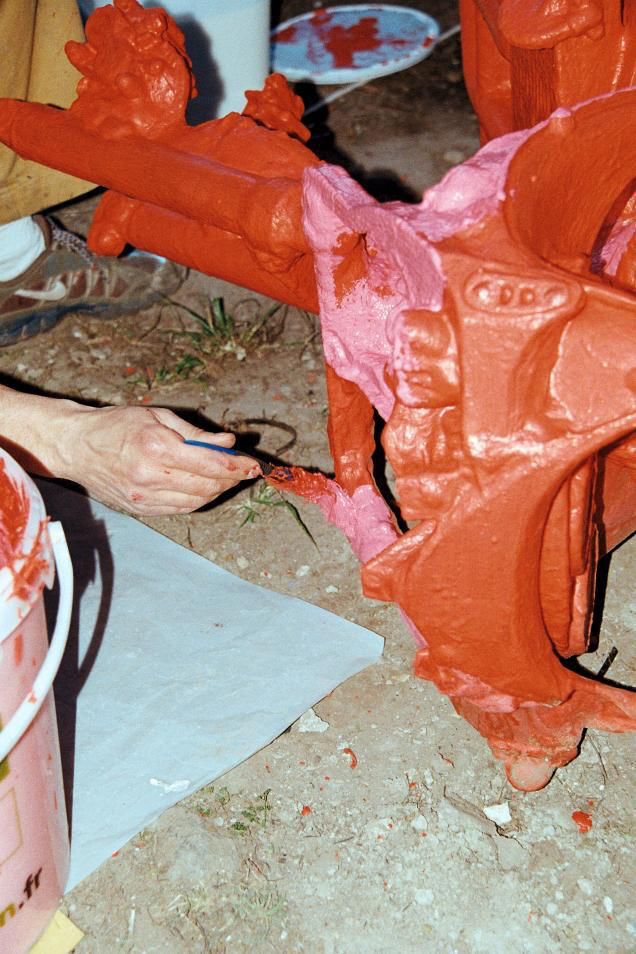 Ken
Sortais
Ken Sortais (Saint-Denis in 1983), currently works and lives in Marseille.
After spending his youth being deeply embedded in the underground graffiti scene, he pursued an art education, attending and graduating from the Ecole des Beaux-Arts de Rouen (2006), and from the Ecole Nationale Supérieure des Beaux-Arts de Paris (2010).
His work takes inspiration both from the classics - Apollo and Marsyas' myth - and contemporary cinematographic fiction - Dario Argento's Pelts (2006). These inputs soon led him to research the representation and recreation of public places statuary and various kind of city objects - a legacy from his graffiti practices - through his motto 'J'aurai ta peau' (literally 'I shall have your skin', meaning 'I'll kill you').
In fact, his latest series 'Sculpt'air' (consisting of inflatable sculptures), involves making molds around the city by hunting down statues and various kinds of objects in the public urban space and producing a latex impression of them on a 1:1 scale.
This performative and theatrical working time, however, is only the first stage of his sculptural practice. The second stage is the mutation of the mold in his studio. In here, after turning the mold inside out, he modifies it by inflating, stretching, molding, cutting and superimposing layers of fiberglass and latex. During this phase the subject turn disfigured, resulting at once inexpressive and grimacing, beautiful and monstrous, dignified and grotesque.
Air is essential for Sortais, as it is the invisible sculptor that molds and shapes his models. It gets right into all the tiny nooks and crannies of the membrane, transforming any hollow areas into protuberances: it dilates and deforms the skin, sometimes to the point of abstraction.
His career mostly unfolded in France, where he also exhibited in recognized institutions like Palais de Tokyo, but lately he also began moving outwards, exposing his works in Spain, UK, Italy, Belgium, and Taiwan. In the latest years, since he began to be represented by Galeria Alegria, he also started to partecipate in international art fairs like ArtBrussels 2023, with a solo project in the discovery section, and CAN Ibiza 2023, in a duo project.