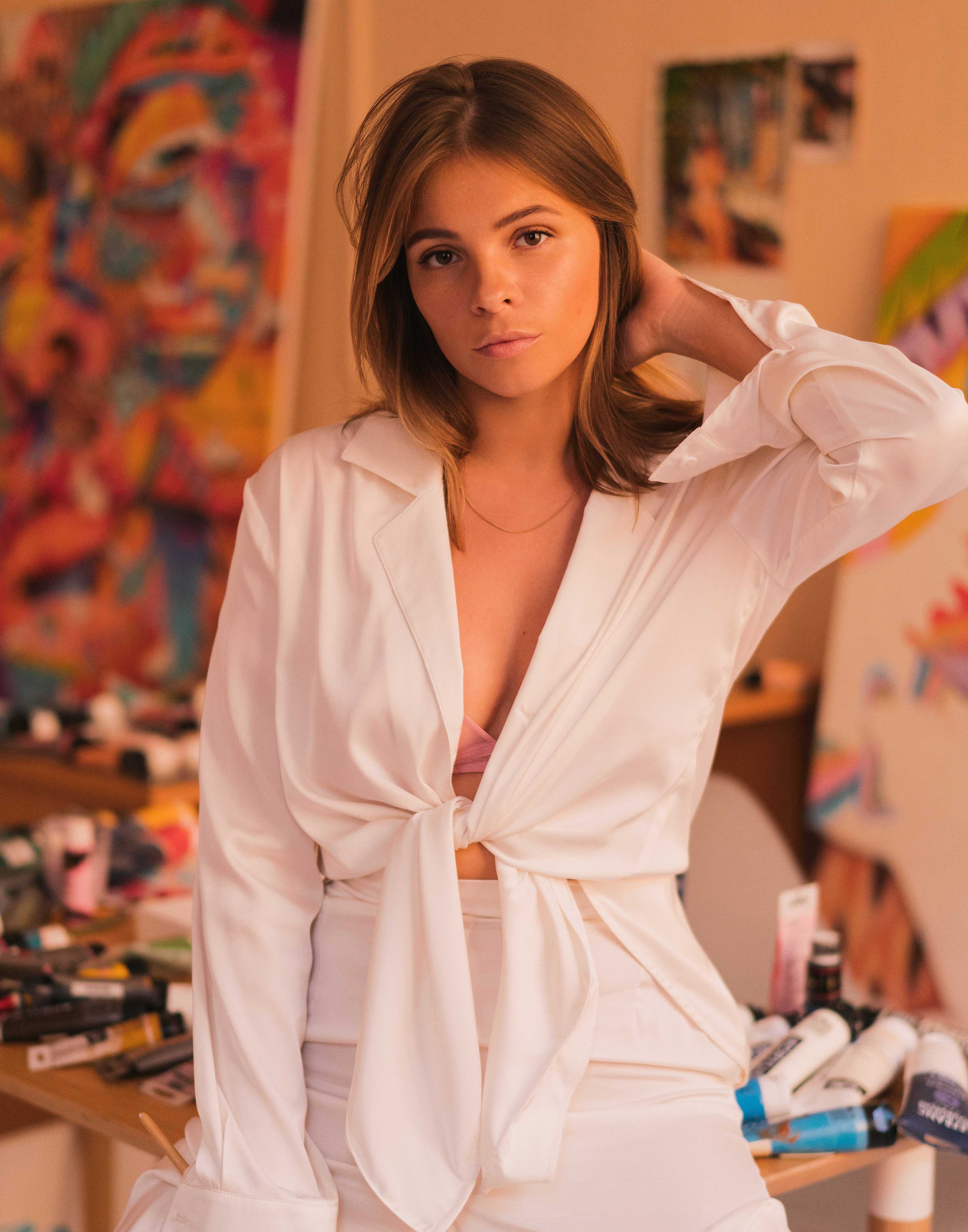 Rita
Maikova
Rita Maikova (b. 1990 in Ukraine) lives and works in Kyiv. She studied Fine Arts at the Kiev National University of Technologies and Design, graduating in 2012. Maikova explores the idea of love, focusing mainly on stopping the endless inner discourse going on in any person's head. She aims to give everyone an opportunity to experience life in the moment. By investigating the here and now, Maikova's works are full of symbols and signs, progressing between the conscious and subconscious mind, which she represented on her canvases. The idea that the variety and interweaving of forms excite the imagination, is one that Maikova likes to play on. Maikova believes that diving into the dynamic forms presented in her work is like a mediation, that speaks to the spectator.
Solo exhibitions include (Upcoming) Bones and Ribbons, Kristin Hjellegjerde Gallery, London, UK (2023); The New World Solo, Museum of Kyiv, Ukraine (2022); Expo 2020 Dubai, Tuasho Gallery, Ukraine (2021-2022); Volta Art Fairs, Tuasho Gallery, Basel Switzerland (2021); First Ukrainian NFT Exhibition, Unit City Karkov, Ukraine (2021); its not the Louvre, Kiev, Ukraine (2018); AMD Gallery, Ukraine (2018)
Group exhibitions include Uprising, Kristin Hjellegjerde Gallery, Schloss Goerne, Germany (2022); Women and other wild creatures: matrilineal tales, Sapar Contemporary, New York, U.S.A.; Imago Mundi – Benetton art project, Galleries delle Prigioni, Reviso, Italy (2022); Group exhibition #1, Tuasho Gallery, Kiev, Ukraine (2022); Verbalisation, Institute of Contemporary Art Problems, Ukraine (2021); Ukrainian Fashion Week, Ukraine (2017); Pierre Cardin Residence, France (2017); Yellow Giant, Gallery Odessa, Ukraine (2016); Feldman Art Park, Ukraine (2015).
Highlights and Awards
Rita Maikova's work can be found in private and public collections such as the Bunker Artspace, Florida, USA. Rita got the first place in nomination for Aesthetics of Nude at Ukrainian art week in Kiev, Ukraine in 2016.