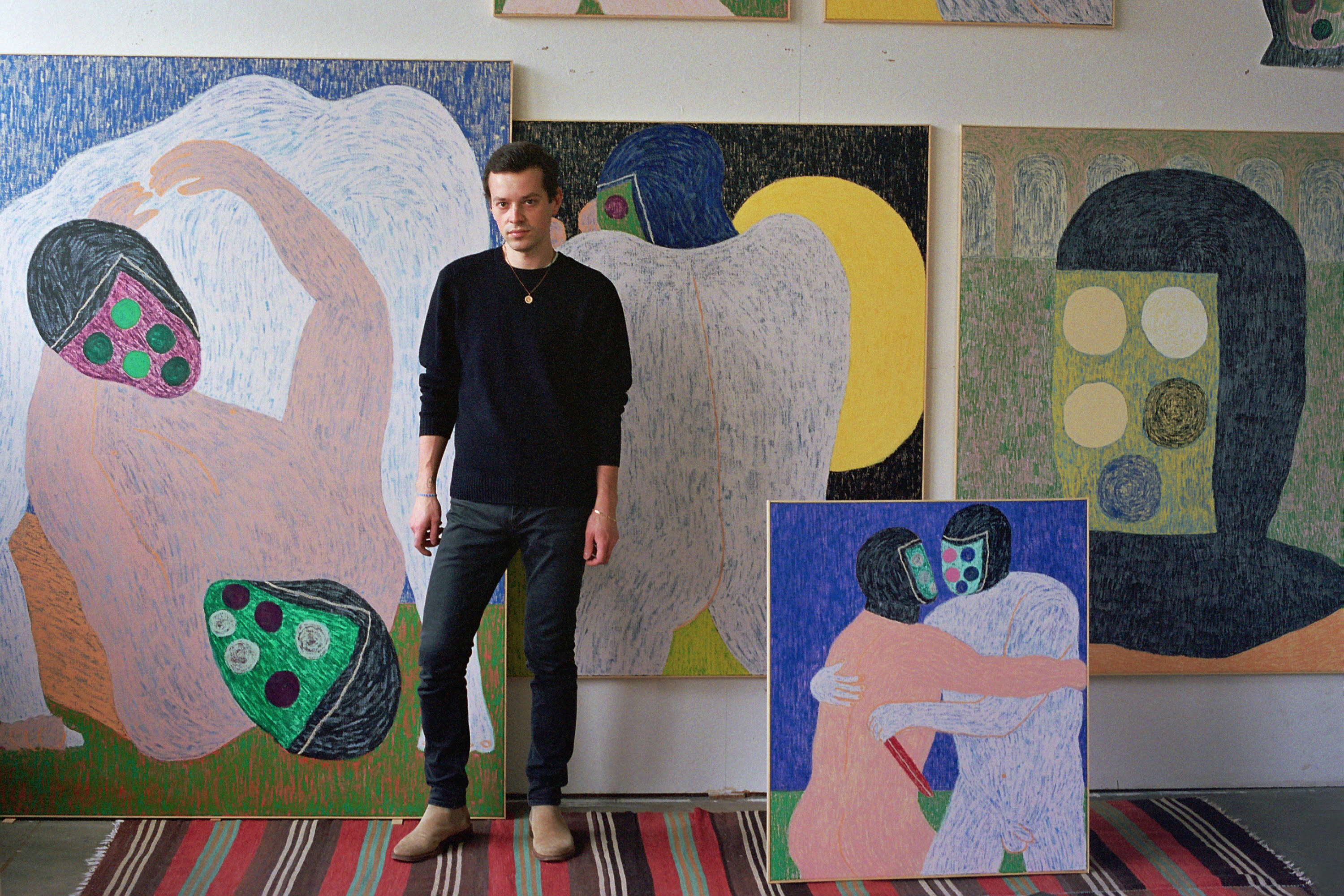 Simon
Demeuter
Simon Demeuter (b. 1991, Soignies, Belgium) lives and works in Brussels. His painting practice is driven by a search for bold simplification of form, inducing his works with pictorial freshness and a sense of immediacy. Colour is the artist's primordial tool to evoke an emotion, an impression, a sensation, a mood or a physical or mental state.
Drawing from childhood memories as well as from travels and encounters, his imagery conveys both an inner landscape as references to Folk Art, the Impressionists, cinema or music. A trivial object, as arbitrary as it may seem, can be the start for an entire new series of paintings. In addition, when dealing with models, they become objectified motifs like any other. Compositions and sceneries are repainted endlessly, with gestural variations in colour, size and through imperfections. In doing so, Simon tries to unearth the trace of an emotion in the simplest and most stripped way.
He has had solo exhibitions at "Love is a burning thing", Reuter Bausch (Luxembourg, 2022); BallRoom Gallery, Brussels (Belgium, 2022); L21, Palma de Mallorca (ES, 2021); The Cabin, Los Angeles (USA, 2019) and Sorry We're Closed, Brussels (Belgium, 2019). Demeuter has participated in group exhibitions at L21 Gallery (Spain, 2022); Nassima Landau, Tel Aviv (2022); Musée Francisque Mandet, Riom (2022); Frac Champagne-Ardenne, Reims (France, 2021); Can Marqués, Palma (Spain, 2021); Gilles Drouault Galerie Des Multiples, Paris (France, 2020) and Generation Brussels, curated by Evelyn Simons (Brussels, 2020).